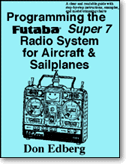 Now available!!
in book form (we send by regular mail)

Don Edberg, the Effective Programming columnist for Model Airplane News and a pilot for Team Futaba, has completed a book entitled Programming the Futaba Super 7 Radio Systems for Aircraft & Sailplanes.
This book is intended for owners of the Super 7 system ("Field Force 7") that are seeking additional guidance on how to make best use of this versatile radio control system. Unlike the manual that comes with the radio, the guidebook is written in plain English for ordinary folks, not computer programmers.
This 91-page comprehensive guide to operating Futaba's Super 7 radio covers all aspects of its operation, and includes over 180 illustrations. These illustrations depict both the liquid-crystal display window on the front of the transmitter, and diagrams of the control movements of models being programmed during each step of the instructions and procedures.
[This book is also very helpful for owners of Futaba's T6X systems, which are like a Super 7 system that is missing one channel and one model memory.]

The book's topics include:
Detailed coverage of the 7UAFS, 7UAPS, and 7UGFS radios with in-depth examination of both aircraft and sailplane functions, FM & PCM transmission, etc.

Also extremely helpful with the 7UAP and 7UAH radios, which are like the Supers except for multiple model memories and a couple fewer functions.
Also useful for the T6X series transmitter, which is very similar to a Super 7, but with one less channel.
Commands & menus defined in terms and figures that are easily understandable
Introductory setup procedures for sport, fun-fly, and sailplane models (slope AND thermal)
Trimming instructions, including detailed charts with step-by-step trimming procedures
Programming techniques and help on programmable mixers, with detailed examples on differential, flaperons, airbrakes, flying wings, rudder coupling, elevons, V-tails, custom mixing, more
Programs for sport, fun-fly, pattern, gliders, flying wings
Complete coverage, with detailed figures, of special sailplane functions, including butterfly, camber, launch & speed presets
Detailed index and pocket reference cards
Things that aren't even listed in Futaba's Super 7 manual!
Whether you fly four-channel sport models, pattern, high-performance sailplanes, or scale ships with six or seven servos, this book will save you hours of trial & error and wasted time.

Comments:
"I'd like to get a copy of your book Programming the Futaba Super Seven. I used one at the field today to help a buddy set up an elevon flying wing. Your instructions were right on the button, even to the amount of control throw you recommended."
--Paul Ahnert

The Programming the Futaba Super 7 Radio Systems for Aircraft & Sailplanes book is available for only US$10 plus shipping!

You may order our Super 7 book directly using Paypal by pressing the "Paypal add to shopping cart" button below.

================================================================

Order our Super 7 book delivered to a U.S. address using Paypal by pressing the "Add to Cart" button below. U.S. orders will be charged $10 for the book plus $6.00 for Priority Mail shipping; please enter the proper Zip code for your address, then press the "calculate" button. This will input the shipping amount of $6.

Non-U.S. orders: the book is USD 10.00 plus USD 13.00 for Air mail shipping via Global Priority mail, total USD 23.00. Click on "Ship outside the U.S." to enter the country of delivery to generate the proper customs forms and shipping costs.



================================================================




Home

Guide to System 8U/FF8 | Guide to Computer Radios PDF by email


IMR Space Station Models | Revell Shuttle Models


Send email to info "at" dynmodel "dot"com for more info
(replace "at" with the symbol over the 2 key on your keyboard, and "dot" with a period ... just trying to reduce spam)






© 1998-2011 Dynamic Modelling and Don Edberg

Last modified: June 15, 2011