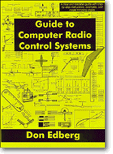 Now available!!
as an Adobe PDF file we can email NOW!!

Written in plain English for ordinary folks, not computer programmers, this comprehensive guide covers all aspects of all brands of programmable radio control systems. Whether you fly sport models, pattern, sailplanes, helicopters, fun-flys, or scale ships, this book will save you hours of wasted time. You'll find over 180 pages, 100 figures and illustrations, and 23 information tables of step-by-step procedures that explain all aspects of computer radios.
This classic used to be out of print, but with the introduction of the electronic version, it's available once again! This is a "must-have" book for any person or club with folks who would like to understand computer radios, and what they can do, better.
Step-by-step instructions and information FOR ALL MAKES & MODELS of computer radios:
Commands, menus, descriptions of WHY each function is utilized
How to use the capabilities of your radio system more effectively
Programming with detailed examples, explanations, and figures
Model trimming & procedure charts
Setup & programming for sport, fun-fly, pattern, gliders, helicopters
21 different examples of programmable mixer uses (rudder coupling, flap coupling, knife edge corrections, dual elevator servos, throttles on twins, dual rudders, flap drop with switch, smoke systems, and more)
RC maintenance and troubleshooting (replacing servo gears, swapping servos, transmitter and airborne system checks, range testing, interference, war stories, and more)
Order direct using the Paypal buttons below!