Revell Space Shuttle Models!

Get a Space Shuttle kit to match your ISS model! It's difficult to find these out-of-production models, but we have them!
NASA's Space Shuttle is the premier method the world uses to get crew and cargo to and from the International Space Station (ISS), an effort of more than a dozen countries to build a gigantic orbiting laboratory.
Revell Space Shuttle Model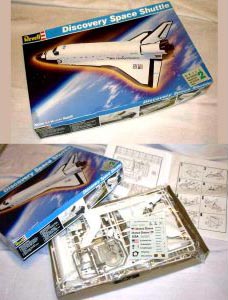 A detailed 1:144 scale model of NASA's Space Shuttle.
Easily modified to dock with the Space Station. PDF Instructions are available for free download.
Payload bay doors and radiators open to reveal payload bay.
Model no longer in production... Hard to find.
Completed model has a 6" wingspan and is 10" long
Decal set with all four shuttle names included.
Complete, detailed instructions included.
Paints and glues NOT included
You may receive a model of the Columbia, Challenger, Discovery, or Enterprise, but all models are identical and include decals for all shuttle versions.
The Revell Space Shuttle Model Kit is available at a price of only US$30 + $12 for shipping.

You can order your own Revell Space Shuttle Model kit by pressing the button below to use PayPal.
View your PayPal shopping cart by pressing the button below.

IMR Space Station kits | Home






© 1998-2009 Dynamic Modelling and Don Edberg

Last modified 23 Aug. 2009