We are sorry, but as of March 2012, the Intermountain Railway Co. (IMR) ISS kits and Enhancement kits are no longer available. For further information, please contact IMR. Thank you for your interest.

Matching 1:144 Space Shuttle Kits Are Still Available. See below.
Get a 1:144 Revell Space Shuttle kit!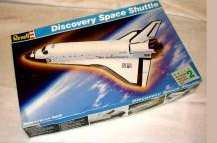 We have a limited number of Revell shuttle kits in matching 1:144 scale available at a cost of US$30. The shuttle kit may differ in appearance from that shown, and it may be for any one of any that NASA has flown. No paints or adhesives are included. If you want a shuttle kit, please use the Paypal button below. Note that Revell no longer produces the 1:144 shuttle model kits, so they may become very uncommon in the near future... get yours now.
To order a 1:144 scale Revell shuttle kit using PayPal, press the Paypal button below. Note: the price of $42 includes $12 for shipping, as we are having difficulty with PayPal's shipping function. Excess shipping payments WILL BE REFUNDED.

Revell Shuttle Models | Home






© 1998-2012 Dynamic Modelling and Don Edberg

Last modified: 25 Mar 2012